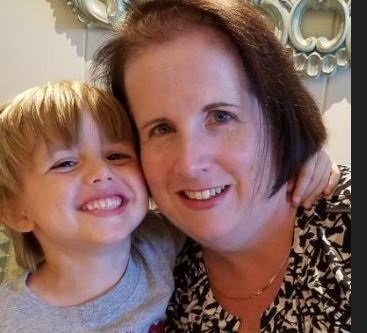 Imagine your perfectly healthy four-year-old son dying suddenly and unexpectedly. At first, there are no answers. The emergency room doctor who delivered the news is clearly unnerved, as are the law enforcement officers who must investigate a child's death. It is only during the autopsy that the Medical Examiner discovers your son was born with a rare disease no other doctor had ever detected. This is what happened to four-year old Travis and his mom, Allison D'Ambrosio Bones in August 2018.
Five months earlier, Allison was surrounded by another team of medical professionals, talking about the imminent death of her husband Jamie from colorectal cancer. She says "When Jamie died, it was like my world spun out of control. I was just starting to feel I was putting my world back on its axis, that somehow Travis and I would be OK, with a whole bunch of help from our "tribe" of chosen family." Then, the unfathomable happened.  Bones says "When Travis died, my world imploded."
To know Travis was to love him. He had an ever-present megawatt smile and a joy for life. He collected friends wherever he went, with both children and adults drawn to his infectious giggle. He was always ready for adventure, loved learning, helping around the house, fixing things and making people laugh. He had rarely been sick, and it was impossible to think he would be dead within hours of first developing a fever.
Allison remembers everything about those first few days with crystal clarity. "My mother was on one side of me and our family priest was on the other when the doctor delivered the news that they were unable to re-start Travis' heart." She remembers she couldn't stop screaming. The hospital staff quickly ushered the family into another room. Her neighbor, her mother and Allison herself began calling friends and family. Within the hour, there were almost 20 people at the hospital, all shocked and numb with grief."
Family friends took Allison and her mom into their home, not wanting the two to be alone in Allison's empty house. Her friend was sitting next to Allison when the Medical Examiner Investigator called. He had more questions for Allison, before he finally delivered the news that would set Allison on her path of rare disease advocacy.
Bones says the Investigator started the conversation by asking again if Travis had ever had any surgery. The Investigator and the detectives each asked this before. She says "I was curious and frustrated why everyone kept asking me if Travis ever had surgery. They could see he had no scars" Finally, the Investigator said "Well, if Travis never had any surgery, then the Medical Examiner found Travis had no spleen; he had a rare disease called Isolated Congenital Asplenia."
Allison repeated all of this while her friend Googled the condition. They were shocked to read of a little girl in the United Kingdom whose story was almost identical to Travis'. Allison said "I had no idea the spleen was so important to the immune system. I very mistakenly thought of the spleen like the tonsils or appendix. Sure, they have some function, but people can live without them." They were even more shocked that no prenatal ultrasound ever found Travis had no spleen. Later, the friend relayed a conversation she had with her brother. He said "There's got to be some reason Allison survived all this, that she's still standing."
Within a few weeks after Travis' death, Allison got her start. Another friend collected articles on the researchers who discovered the genetic mutation for Isolated Congenital Asplenia (ICA). Allison emailed Travis' case to one of the doctors, requesting a meeting. The doctor, Licia Selleri, MD, PhD, responded the same night. They talked and made plans for Allison to visit Dr. Selleri's lab at the University of California, San Francisco and Dr. Jean-Laurent Casanova's lab at The Rockefeller University in New York.
Just a few months later, with help from friends, Allison launched T.E.A.M. 4 Travis (Together Ending Asplenia Mortality). The IRS awarded T.E.A.M. 4 Travis 501(c)(3) status as a nonprofit organization. She started attending rare disease events, including Rare Disease Day and then Rare Disease Week in Washington, DC, as well as events from Global Genes, NORD and The EveryLife Foundation. She joined The EveryLife Foundation's Newborn Screening Working Group and now sits on their RDLA Advisory Committee.
For everything that is known about ICA, so much more is unknown. Is only one gene responsible for the disease, or is it possibly polygenic? What would be the most effective method of detection? Could detection be a simple as looking at a prenatal ultrasound or doing a blood test shortly after birth? How do we make sure a missing spleen is detected early? These are just a few of the questions she has. Another is how to define success. As one board member described it "I see success coming 5 or 10 years in the future when some parent of a child with Asplenia is interviewed and says 'T.E.A.M. 4 Travis is the reason my child is still here." Allison is hopeful through their awareness and fundraising efforts; they can make a significant contribution to advancing research about the disease.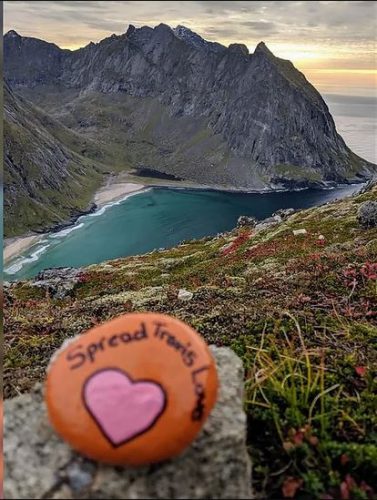 One unique way they spread awareness is through the #SpreadTravisLove Kindness Rocks project. This quirky little art project started slowly at the suggestion of a creative friend in Spring 2019. In less than two years, the #SpreadTravisLove rocks have traveled to all 50 states and multiple countries. One rock even went on to a pilgrimage to the Holy Land and then the Vatican before it was returned to Allison. Another rock traveled from Phoenix, Arizona to San Diego, California where a young boy found it and learned about Travis. He decided the rock should "go far", so he gave it to his uncle who took the rock to Norway, leaving it there for someone else to find. That someone else happened to be another young boy who took it home with him to England. That boy's family took several pictures of Travis' "traveling stone" as they traveled throughout the United Kingdom on a two-week holiday.
We are excited and honored for the opportunity to share Allison's powerful story and to be featuring her as a Rare Disease Difference Maker!
To learn more about the #SpreadTravisLove project and all their activities, please visit their website team4travis.org.