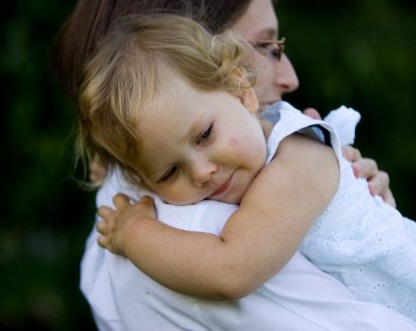 Erica Barnes works tirelessly as an advocate for rare disease research and community. The non-profit she started with her husband, Chloe's Fight, focuses on supporting rare disease research and fighting for policy that improves the lives of patients. She works closely with NORD (National Organization for Rare Disorders) as their ambassador to Minnesota, building crucial support for many other advocacy groups and connecting them with wider resources. She works to reach out to policy makers to raise the profile of rare disease patients and events. She gives talks about effective state-level rare disease advocacy. She was one of the leading architects behind a bill that would have created the Chloe Barnes Rare Disease Council. 
Had this been successful, it would have created an advisory board providing an official channel to guide and direct rare disease research and advocacy in the state of Minnesota. The bill was part of a budget that was vetoed this year, but she isn't at all deterred from trying again. To quote Erica, "If they think they've heard the last of me… they're very wrong". On top of it all, she's a wife and mother, raising two with her husband in suburban Minneapolis.
Erica does all of this because she knows what it's like to lose someone to rare disease. Too often small patient populations and little funding for research means that rare diseases have few treatments, and misdiagnosis is common. Erica saw this first hand after her youngest daughter, Chloe was diagnosed with Metachromatic Leukodystrophy (MLD). She had been missing her milestones, acting strange in a way only her parents seemed to see. Her work as a speech pathologist prepared her to see what the first pediatrician dismissed as "a Mom's imagination". She went to a second, who took her concerns more seriously. The doctor ordered an MRI, and the stakes of the situation became clear. Just over six weeks from diagnosis, Chloe underwent a risky bone marrow transplant, the only known treatment for her condition. Unfortunately, after the surgery ended she contracted a lung infection that her weakened immune system couldn't recover from. Chloe passed away shortly after, devastating her parents and the medical staff treating her.
Chloe's tragic story is all too common to families impacted by rare diseases. Too few or no treatments and extensive experimental risk; it's this sort of story Erica works every day to help stop. In her words "My husband and I would sacrifice a lot to keep another family from going through that".
From the time of her daughters passing, Erica has been making a difference. She and her husband approached Dr. Paul Orchard, at expert in inherited metabolic diseases at the University of Minnesota. They asked him who they could help fund, where he was getting his money. His answer decided the course of the foundation they hadn't yet started. He told them he didn't have a funding stream. The Barnes' decided that this problem was one they could try to solve. From that moment on, Chloe's Fight had a direction, and dedication. Since then, the organization has dedicated itself to numerous fundraising and advocacy activities to support research for a cluster of rare diseases awareness campaigns to increase the general public's knowledge of basic rare disease facts, and events to educate future medical students.
The events that keep the wheels of progress moving on rare diseases are happening around us all the time, and those looking to make a difference can help Chloe's Fight; on September 7th Chloe's Fight is hosting the Big Fat Greek 5K at Lake Calhoun in conjunction with a Minneapolis favorite, Taste of Greece. The race will raise money for the study of rare diseases, and help find newer, safer treatments. The VIP tent will also host a number of prominent University of Minnesota researchers, providing an excellent opportunity to meet pioneers of rare disease treatment.
We ask our friends in the Minneapolis area who are looking to make a difference in the lives of those with rare diseases to attend. Come join us in supporting Chloe's Fight and help us congratulate our latest Rare Disease Difference Maker™ ­­­­­!
For more information about the Big Greek 5K, visit the Chloe's Fight website by clicking here.
Know a potential Rare Disease Difference Maker™­­­­­­­? Nominate them here.