March 2022
When we last spoke with Erica Barnes back in 2018, she had been fiercely advocating for a Rare Disease Advisory Council in Minnesota when it was unfortunately vetoed from the budget. However, she told us at the time that she was not deterred or afraid to try again. She meant it, too, because, in 2019, the bill was reintroduced and passed unanimously. The Chloe Barnes Advisory Council on Rare Diseases was formed and now has 24 volunteers on the board and works to provide advice on research, diagnosis, treatment, and education related to rare diseases, with Erica as the Administrator.
As the bill was going through the process of voting, Erica recalls a legislative assistant telling her, "Literally everyone in this building wants this to work." And as we know, it did. As a stand-alone bill, it passed unanimously in a divided legislature. She reflects fondly on the unified mindset about the need for a council like this. In a political system where division is often so extreme, this was something that both sides of the political aisle viewed as a necessity. 
The inspiration behind Erica's mission is her daughter, Chloe Barnes, who was diagnosed with Metachromatic Leukodystrophy (MLD) and tragically passed away after a bone marrow transplant. Some of Erica's initiatives have been Chloe's Fight, a nonprofit which supports rare disease research, and her role as the National Organization for Rare Disorders (NORD) ambassador to Minnesota. When working to establish the advisory council, Erica shared how it felt to have the chief author wanting the council named after her daughter. While she knows the power of a story like Chloe's to humanize the issues at hand, Erica also stresses that the council is not just about her daughter but about everyone. When someone asks, "Who is Chloe?" she tells them, "She's your daughter. She's your granddaughter. She's the little girl you saw at the store last week…she could be anyone. If you want to know who Chloe was, she's your daughter. Operate for these children the way you would for your child, your grandchild, your neighbor's kid, your niece."
After the bill passed, the 'real work' was just beginning. The council meets quarterly as a whole. Within the council, there are working groups focused on important topics such as Barriers to Care, Cost, Coordination of Care, and Acceleration of Research.  Each meets monthly and sometimes even more frequently. Erica emphasized how amazing the volunteers are because they have other 'heavy duty' responsibilities at their jobs but have taken time to come together and face a very challenging issue together. 
The council's first initiative was to create a baseline. "Our mindset was, if you can't measure it, you can't improve it." The first step was to go back to the basics and establish a baseline of knowledge, starting with two surveys. One survey was for patients with rare diseases aiming to show patterns in the challenges they faced- what issues bubbled to the top across the rare disease community as a whole. The most significant issues were finding a physician nearby who understands a patients' rare disease, the delay of diagnosis, coordination of care, transition of care, and what Erica described as 'the elephant in the room-' research. Roughly 95% of the 7000 rare diseases don't have an FDA-approved treatment, so there's obviously a lot of research to be done. This survey ended up obtaining input from over 1,100 respondents, the largest done in the rare disease space in the US.
The second survey was for healthcare providers. 150 healthcare providers took time to share their knowledge and experience with rare diseases. This survey revealed that nearly a quarter of the medical practice respondents (as opposed to dentists and rare disease specialists) were not familiar with rare diseases and that their knowledge of rare diseases was not sufficient to meet the needs of their practice. In addition, roughly half of the total respondents said they would benefit from additional training on rare diseases in the areas of diagnosis and management.  Please see below for a summary of other work done by the council in 2020.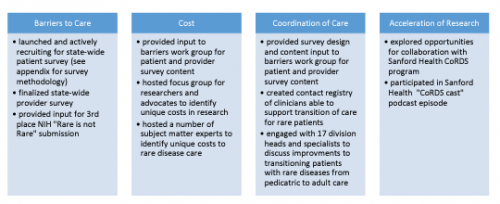 When sharing her final thoughts, Erica shared how she has stayed determined and persistent in the complicated realms of legislature and healthcare. "Just know that things are hard, things are discouraging, and you might feel like the world is against you. Whenever you feel like giving up, just remember why you started. There are going to be intractable problems, so just keep at it." At Engage Health, we appreciate the opportunity to honor a "Rare Disease Difference Maker" ® like Erica Barnes, who has contributed so much to the rare disease community as a whole and here in Minnesota. To learn more about the Chloe Barnes Advisory Council on Rare Diseases and how you can get involved, please visit the links below:
https://government-relations.umn.edu/sites/government-relations.umn.edu/files/2021rarediseaseadvisorycouncilreport.pdf
August 2018
Erica Barnes works tirelessly as an advocate for rare disease research and community. The non-profit she started with her husband, Chloe's Fight, focuses on supporting rare disease research and fighting for policy that improves the lives of patients. She works closely with NORD (National Organization for Rare Disorders) as their ambassador to Minnesota, building crucial support for many other advocacy groups and connecting them with wider resources. She works to reach out to policy makers to raise the profile of rare disease patients and events. She gives talks about effective state-level rare disease advocacy. She was one of the leading architects behind a bill that would have created the Chloe Barnes Rare Disease Council. 
Had this been successful, it would have created an advisory board providing an official channel to guide and direct rare disease research and advocacy in the state of Minnesota. The bill was part of a budget that was vetoed this year, but she isn't at all deterred from trying again. To quote Erica, "If they think they've heard the last of me… they're very wrong". On top of it all, she's a wife and mother, raising two with her husband in suburban Minneapolis. 
Erica does all of this because she knows what it's like to lose someone to rare disease. Too often small patient populations and little funding for research means that rare diseases have few treatments, and misdiagnosis is common. Erica saw this first hand after her youngest daughter, Chloe was diagnosed with Metachromatic Leukodystrophy (MLD). She had been missing her milestones, acting strange in a way only her parents seemed to see. Her work as a speech pathologist prepared her to see what the first pediatrician dismissed as "a Mom's imagination". She went to a second, who took her concerns more seriously. The doctor ordered an MRI, and the stakes of the situation became clear. Just over six weeks from diagnosis, Chloe underwent a risky bone marrow transplant, the only known treatment for her condition. Unfortunately, after the surgery ended she contracted a lung infection that her weakened immune system couldn't recover from. Chloe passed away shortly after, devastating her parents and the medical staff treating her.
Chloe's tragic story is all too common to families impacted by rare diseases. Too few or no treatments and extensive experimental risk; it's this sort of story Erica works every day to help stop. In her words "My husband and I would sacrifice a lot to keep another family from going through that".
From the time of her daughters passing, Erica has been making a difference. She and her husband approached Dr. Paul Orchard, at expert in inherited metabolic diseases at the University of Minnesota. They asked him who they could help fund, where he was getting his money. His answer decided the course of the foundation they hadn't yet started. He told them he didn't have a funding stream. The Barnes' decided that this problem was one they could try to solve. From that moment on, Chloe's Fight had a direction, and dedication. Since then, the organization has dedicated itself to numerous fundraising and advocacy activities to support research for a cluster of rare diseases awareness campaigns to increase the general public's knowledge of basic rare disease facts, and events to educate future medical students.
The events that keep the wheels of progress moving on rare diseases are happening around us all the time, and those looking to make a difference can help Chloe's Fight; on September 7th Chloe's Fight is hosting the Big Fat Greek 5K at Lake Calhoun in conjunction with a Minneapolis favorite, Taste of Greece. The race will raise money for the study of rare diseases, and help find newer, safer treatments. The VIP tent will also host a number of prominent University of Minnesota researchers, providing an excellent opportunity to meet pioneers of rare disease treatment. 
We ask our friends in the Minneapolis area who are looking to make a difference in the lives of those with rare diseases to attend. Come join us in supporting Chloe's Fight and help us congratulate our latest Rare Disease Difference Maker® ­­­­­!
For more information about the Big Greek 5K, visit the Chloe's Fight website by clicking here.
Know a potential Rare Disease Difference Maker®? Nominate them here.