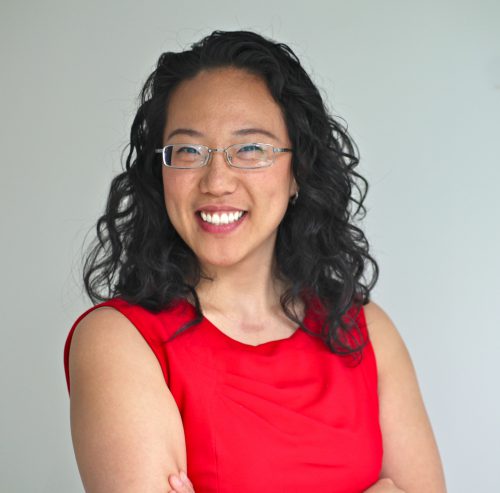 "I know what it's like to not know what you are living with and to not know what your future is, or if you have a future." That's how Michele Rhee, Head of Patient Affairs for Enzyvant, describes her motivation to be an advocate for people living with rare diseases.
At a time when most college juniors are busy tackling their higher level courses or wondering about their career path, Rhee, then a 20-year old junior, was tackling thyroid cancer and starting her long journey as a person living with a rare disease. It turned out that Rhee's cancer was fortuitous. It was during the aftercare for her cancer that routine scans turned up nodules in her lungs. Doctors then performed major surgery to determine what the nodules were. They turned out to be small fragments of a very rare type of benign tumor in her heart that were breaking off, flowing through her bloodstream, and lodging in her lungs. Further investigation lead to the diagnosis of a rare genetic mutation that causes the growth of these rare tumors.
After college, Rhee wanted to make a difference in the lives of other people living with rare diseases and facing the uncertainties that she experienced. So after a dozen major surgeries, one open heart surgery, an MBA and a MPH in Health Policy and Administration, Rhee found both her calling and her vocation in patient affairs and advocacy.
Rhee is a Rare Disease Difference Maker™ for many reasons, but a primary reason is her work on behalf of people living with Farber disease. Farber disease is a rare metabolic disorder that can be clearly identified if patients present with the hallmark features of the disease; painful and progressively deformed joints, nodules under the skin, and progressive hoarseness.
However, researchers wondered if some individuals might be presenting with milder attenuated forms of the disease that were being misdiagnosed because the presenting symptoms were not as severe. Rhee undertook an exhaustive search of the medical literature and existing case studies to characterize those who might be missed. This research, along with outreach to specific patient populations, supported the hypothesis that some patients were going undiagnosed, or being misdiagnosed as having juvenile idiopathic arthritis.
Rhee says a proper early diagnosis is important to those living with any type of rare disease. "I really look forward to the day that people don't go through that agonizing diagnostic journey," Rhee said. "Even if they don't have a treatment, just getting the diagnosis can be a huge relief, and I wish for the day that we can help them get that diagnosis sooner," Rhee explained.
Rhee wants those living with a rare disease to remember that, "Although individually we are rare, together we are not. When you think of the rare disease community as a whole, we can have such an impact."
"Everyone needs help." Rhee advises that those who want to become rare disease difference makers should find a disease community they care deeply about and simply volunteer. "Whatever your skillset might be, you have a skillset that can be a help to an organization," Rhee said.
Please join Engage Health in honoring Michele Rhee as our newest Rare Disease Difference Maker™. Who is your Rare Disease Difference Maker™? Nominate them here!,