Zeke Zaragoza, an active three-year-old, had just been to a checkup with his pediatrician; everything was fine. His Mom, Chanin, became concerned when he started complaining about his feet bothering him.  The situation didn't improve; over the next few days, Zeke was noticeably crankier and even started having what Chanin describes as "rage attacks", which were not normal for this usually happy child. With Zeke being Chanin's third child, she knew this was different than a typical "toddler tantrum". She became increasingly alarmed when he started walking sideways, walking into walls, and once when outside, he would ask, "why is the wind blowing me?" when there was no wind.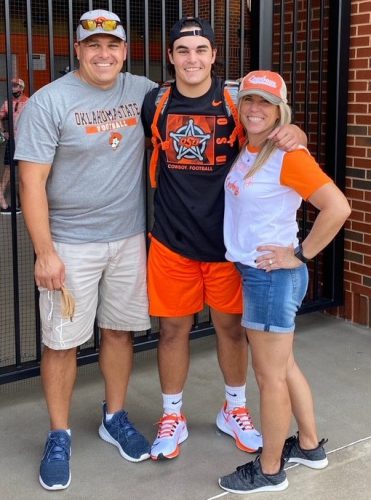 Chanin remembers one day when Zeke suddenly wouldn't stand on his own. With him only getting worse, his parents took him to the ER and were told it could be vertigo. But when they followed up with Zeke's pediatrician, she knew it wasn't vertigo. They went back to the hospital, and he was admitted. They did MRIs and a spinal tap, not knowing what they were looking for; they didn't know what was going on.
There were more trips back and forth to different hospitals until one doctor presented Zeke's case to a team of 20-25 neurologists. They all went into a conference room to review his symptoms and discussed his case for the next few hours. Finally, the team came out of the room with a possible answer. They thought Zeke might have opsoclonus-myoclonus syndrome (OMS), an extremely rare nervous system disorder that affects just one in 10 million people annually, and for which there is no cure. By the time this answer came, Zeke
was still unable to stand on his own and was confined to a wheelchair. His family was told that he may one day be able to walk, but he might not ever be able to play sports.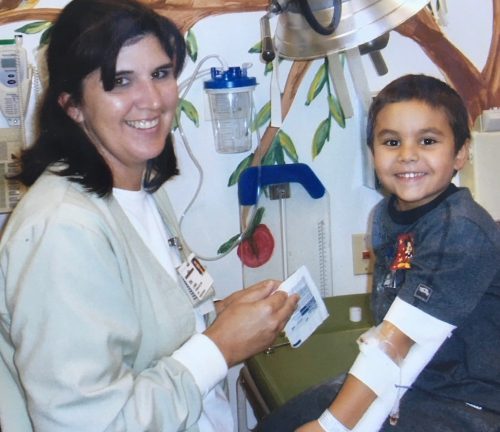 Zeke's parents leapt into action, and with the help of friends, found the leading doctor treating OMS in Illinois. They contacted him, flew halfway across the country, and got the diagnosis confirmed. After assessing Zeke, he was put on an aggressive treatment plan including steroid shots, chemotherapy, and physical and occupational therapy. Slowly but surely, Zeke's balance improved; he started to feed himself with a sippy cup again and eventually, he began walking normally. From the young age of 3, nothing was going to stand in his way". The twice-daily steroid shots were quite painful, and the trips back and forth to Illinois were not easy. But the treatment was working. Unlike what had been predicted for him, Zeke went on to play t-ball and football, eventually bringing him to where he is today- the number 2 long snapper for a division 1 football team: the Oklahoma State Cowboys.
When Zeke decided to play college football during his senior year at high school, it was for one main reason; he wanted to use his talent in a way that kids struggling with OMS or other conditions could be given hope. Zeke shared the sentiment, "no matter how hard it gets, there is always a light at the end of the tunnel, with God's work, working hard and always believing in yourself you can do anything you want in this world." His focus has always been on giving hope to those who are struggling.
Zeke shares that "I'm no different than anyone else, I'm a regular guy–nothing special, now playing D1 college football. If I could do it, you can certainly do it if you put in the work and trust in God; miracles happen. I've come into contact with kids who have OMS; I even had one come to a Cowboys game with his family and had the pleasure to meet him.  I was in his shoes, and now I'm here and can't wait to see what he'll do in the future." Zeke serves as a place of comfort and support for just about anyone he meets, always just a text or phone call away for kids or families who need an open ear or a shoulder to lean on.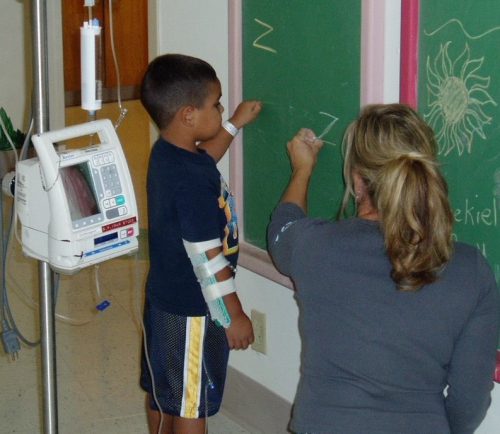 Zeke was also recently named to the Uplifting Athlete Rare Disease Champion Team for his story and leadership as an athlete in the rare disease community. The Rare Disease Champion Team (presented by Sanofi) is an Uplifting Athletes awareness campaign that is part of the National College Football Awards Association (NCFAA). This is the 14th year Uplifting Athletes has recognized Rare Disease Champions by highlighting leaders in college football that have made a positive and lasting impact on the Rare Disease Community.
It has been 18 years since Zeke was first diagnosed, but Zeke remembers how challenging the treatment was at times. But his doctors were fighters and his family was hungry to see him achieve the best quality of life possible. Today, Zeke serves as an example when others might be feeling depressed or are losing hope. To help others get through the challenging times, he sends t-shirts, signed football gloves, and often sits on Zoom calls with kids and their families. He provides a safe space for whatever is needed- whether that be a casual conversation or a source of hope and encouragement. Chanin shares," Zeke loves football, but wants to use his situation to help kids who have lost hope." Zeke tends to view himself just like anybody else, but for the families he helps, he is a strong and reliable friend. There is a chance that Zeke could end up in the NFL, but he also hopes to one day become a physical education teacher where he can continue fulfilling this role. We are excited to see what Zeke will accomplish in the future; please join us in congratulating Zeke as a real Rare Disease Difference Maker®